The Glendalough Trail Race Description
A fantastic running experience with a route that is both scenic and challenging. The Glendalough Trail Race not only offers a fun and enjoyable day but also helps raise much needed funds for Fighting Blindness.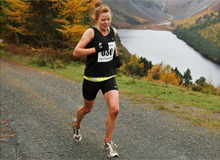 Fighting Blindness is a very worthy cause that deserves your support. An Irish charity, Fighting Blindness helps fund world-leading research into treatments and cures for blindness. It also provides a unique professional counselling service for people with visual impairments and their families.
The main race itself is 15.5km long, held mainly on forest trails in the Glendalough area. The route is totally free of traffic and there is approximately 600m of wet and mucky trail, and 300m of tarmac path close to the iconic Glendalough upper lake. We also have a non-competitive shorter course (8.6km) option for joggers & walkers
The Glendalough Trail has enjoyed strong support with increasing numbers every year.
There is a very friendly and social atmosphere so why not join in the fun and help support a worthy cause?
Our 2020 event is scheduled for Sat 14th November – Details of event and entries are available on Event Website